OutNav transforms the way you evaluate outcomes and impact
Understand, map and evidence how your organisation or initiative improves outcomes for people and communities.
Plan, report and evaluate
OutNav is an innovative cloud-based software developed by Matter of Focus to underpin our approach to meaningful outcome and impact evaluation. It allows you to be transparent about how your work contributes to outcomes and to share this with people inside and outside your organisation.
Find out more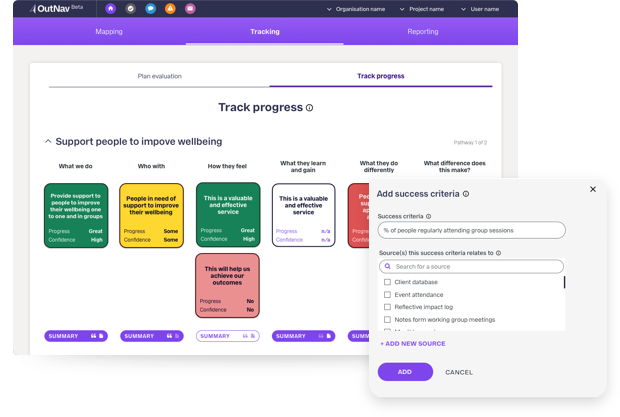 What our OutNav Community members say:
Drag to scroll
Previous
Next
OutNav gives us a streamlined way of pulling together data and reporting on our projects. It's a great basis for sharing our approach with stakeholders and funders.

Using OutNav has helped us to clarify the role and remit of our organisation, its members and the impact and outcomes of our work.

Matter of Focus has helped us to use outcome pathways and integrate these into our new quality framework, alongside our objectives, principles and values.

Using OutNav has helped us organise our evidence of impact in a meaningful way.

When you're dealing with a complex change, where so much is relying on people's emotion and the culture of practice, OutNav is an amazing tool for keeping you sane! It helped me see how things fit together. Once you get into the swing of it, it becomes so much easier to pull things apart and understand how it's working.

I think the work of Matter of Focus is transformational in terms of measurement, and ultimately showing how we contribute to social change.